Conservation
Gwent Archives recognises that preventative conservation is the most effective means of conserving its records. Preventative conservation will form the main focus of activity.
Prioritising of conservation requirements is necessary to determine long-term preservation strategies. Decision making will take into account the needs of the user; condition of material and resource implications; the importance of material (See also Collection and Appraisal Policy) and expected level of use.
The conservation studio at Gwent Archives provides up-to-date facilities to enable in-house treatment for all document types. These include:
Books
Paper
Photographs
Parchment
Seals
Maps and plans
Advice
Do you have a collection of old family documents and photographs at home?
Our conservator is always happy to offer advice on how to best store and care for these documents. You can contact us by email, telephone or mail to discuss your records, and if necessary we can arrange a consultation.
The conservation studio also undertakes outside work for members of the public.
(Our conservator is trained in the repair and preventative conservation of books, maps, plans, posters, paper of all kinds, parchment, wax seals and some treatments on photographic material. We cannot undertake work on paintings, ceramic, metal, wood or textiles but can suggest alternative suppliers.)
Conservation charges
For a list of current charges for conservation services please see our Fees and Charges
Thank you.
Examples of The Conservation Process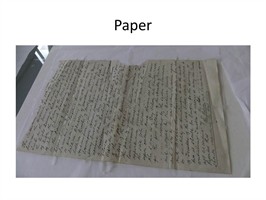 Paper: This is a handmade laid paper indenture from 1876. Damaged through handling and by rodents.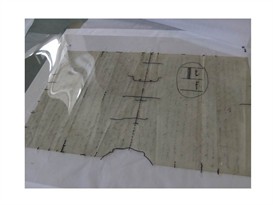 The first step is to mark out the damage we need to repair. We do that by laying a piece of melinex over the paper and using a permaent marker pen draw out the guide.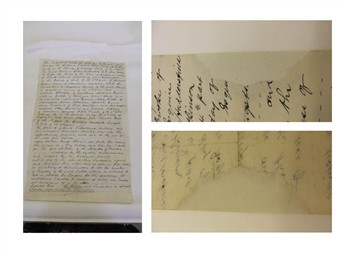 Japanese paper was adhered to the back of the paper to support the small tears. A piece of laid paper similar in tone and weight to the document was used for the infill. Gluten free wheat starch paste was use to adhere all repairs. When repairing documents you should use like with like. So as paper is a plant based material we use plant based materials to repair it.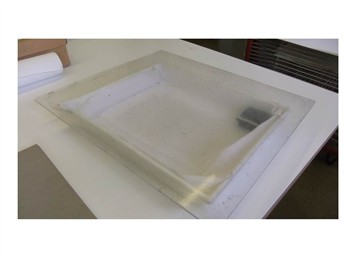 We used an humidificaiton chamber to renew the hydrogen bonds and cellulose fibres in paper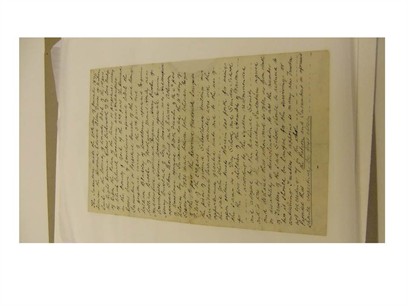 The document would then have been put between a sandwich of blotters and boards when fully hydrated and placed in a press. The blotters would be changed every few hours until the document was completely dry.